Wow! What an awesome site! Thanks to my
PT Friends
, I had the best time teaching spelling today.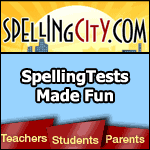 All because of Spelling City! We played the site's version of Hangman and OMG, I am sure the office; which is right across from us, must have thought we were having a party. There were so many cheers! It was hard to control my giddiness over their excitement. One of my kiddos kept saying the letter j for each attempt. Another kiddo piped up and said, "We're practicing our spelling words not how to spell your name! There are no Js in our words.". This came from a kid who struggles every week!

What a great site. If you haven't tried click on the image above. Your kids may have the same reaction.

What are your must haves websites to keep students engaged? I'd love to find more hidden treasures!

Happy Teaching and Learning!
- Posted using BlogPress from my iPad