LEARNING!
My students have had a blast learning from
this interactive tool
.
Thank you, Fran!
Take a look at some of the games we've played.
For this game, students practice blending CVC words. I selected a consonant. Students, then, blended the word. As we played, we decided if the word was real or nonsense.
We practiced making rhymes. This seemed so much more engaging to my students. It also was a great way to see which students needed more help. Next time, I would partner students.
Click image for your copy.
Their favorite game was Spin a Sight Word. My kids were all smiles and cheering. I wrote six sight words and had one space for Free Choice and another was Erase 1. They
loved
when the spinner landed on Free Choice. They cheered! They practiced reading and writing the words and they didn't know it! Sneaky.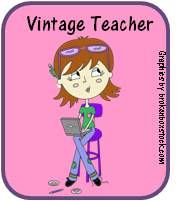 In honor of Pam from The Vintage Teacher and a TBA contributor, I am sharing this document as a
editable document.
You can adapt this to meet the needs of your students. I am also sharing a link for all my
freebies on my blog
and at my
Teachers Notebook Shop
.
In memory of Pam Woods, a teacher whose passion was to help the teaching community.

If you use this document, please leave a comment.



Happy Teaching and Learning!